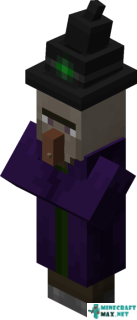 | | |
| --- | --- |
| Effect | Throws various potions |
| Health | |
| Damage | |
| Experience | |
The witch is a hostile mob, she can appear in any dark place or at night. Her hut is found in the swamp biome, but the witch may not be there. The witch can be heard from afar, she talks to herself and giggles. She looks like a villager from afar, but in different clothes and a hat, with a wart on her nose.
While attacking, the witch throws a bottle with a potion of poisoning, slowing, weakness, or damage at the player. Therefore, it is best to kill the witch with a bow or crossbow from afar.
If the witch is injured, she immediately drinks a potion of healing and restores health.
After the death of the witch, a potion, a stick, glowing dust, or an empty bottle may fall out.
Drop:

Gunpowder
,

Redstone Dust
,

Glowstone Dust
,

Sugar
,

Stick
,

Spider Eye
,

Glass Bottle
Minecraft versions: 11 / 10.5.1 / 1.19.1 / 1.19 / 1.18.2 / 1.18.1 / 1.18
COMMAND: witch
Publish date:
09/20/2021
Modify date:
01/27/2022