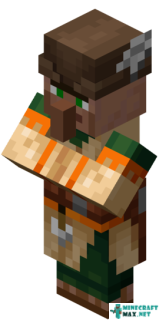 | | |
| --- | --- |
| Effect | Fletching Table |
| Health | |
Fletcher is the rarest of all villager professions. An Fletcher villager can be recognized by their clothing: it is a brown hunting hat with a feather, an arrow in his belt, and a buckle on his belt that will change color depending on his skill. In different biomes, the clothes of the fletcher will differ in colors.
Fletcher sells flint, emeralds, arrows, bow, crossbow. You can sell gravel, emeralds, threads, sticks to an fletcher.
The fletcher's workplace is the fletcher's table.
Minecraft versions: 11 / 10.5.1 / 1.22 / 1.21 / 1.20 / 1.19.1 / 1.19
Publish date:
09/20/2021
Modify date:
11/09/2022