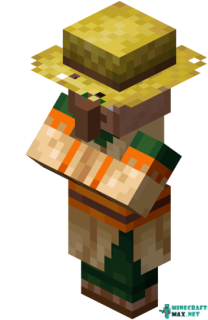 A farmer is one of the villagers who are engaged in growing various crops to supply the village with food.
The farmer wears brown clothes with a belt, a straw hat on his head. In different biomes, farmers' clothing parts may vary slightly.
The farmer sells apples, bread, watermelon slices, pumpkin pie, cookies, ready-made dishes with various effects, golden carrots. He buys wheat, potatoes, carrots, beets, pumpkins.
A farmer has levels of professional development: beginner, apprentice, craftsman, expert, master. With the development of levels, the range of goods for exchange changes, as well as the color of the buckle on the belt.
The farmer's workplace is a composter.
Publish date:
09/20/2021
Modify date:
11/14/2022