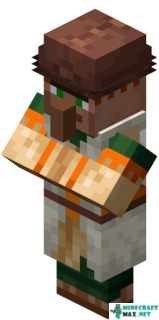 The shepherd wears a white vest and has a brown hat on his head. This is a villager who is engaged in the production and processing of wool. You can buy various decor items from him - carpets, beds, flags of various colors, paintings, emeralds and scissors. The shepherd buys wool, dyes and emeralds.
The shepherd has levels of profession development - a beginner, an apprentice, an artisan, an expert and a master, which affect prices and assortment. When the profession level increases, the color of the buckle changes.
The shepherd's house has a paddock for sheep nearby. The loom is a shepherd's workplace.
Publish date:
09/20/2021
Modify date:
11/14/2022