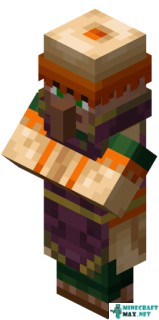 | | |
| --- | --- |
| Effect | Brewing stand |
| Health | |
The cleric is one of the villagers who wears a pink-colored robe with gold-colored trim, a high collar, and cuffs. Depending on the biome, it may have different shades of clothes and offer different goods for exchange.
The cleric prefers to buy rotten flesh, turtle shells, rabbit's feet, emeralds and gold ingots, ender pearls, glowstone. You can buy rare magic items from the priest, including bottles of potions and experience.
The workplace of the cleric is a potion maker.
Publish date:
09/20/2021
Modify date:
11/09/2022