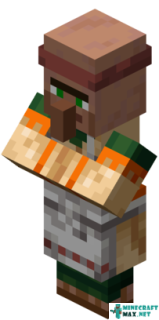 Butcher is one of the professions that villagers can use. The butcher sells fried meat of various types, stew, and buys raw meat, sweet berries, dried kelp. Unlike other professions, the butcher offers only food products for exchange.
You can recognize the butcher by the white apron and pink headband. Clothing details may vary depending on the biome where the village is located.
The butcher has levels of development of the profession: beginner, apprentice, craftsman, expert and master. Depending on the level of the butcher, the assortment, prices of goods, as well as the color of the buckle on the belt change.
The butcher's workplace is a smoker.
Publish date:
09/20/2021
Modify date:
11/30/2022