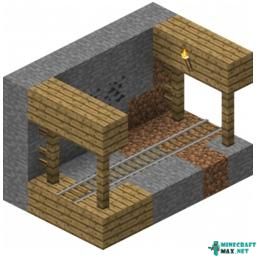 Abandoned mineshafts are found underground in different biomes. Very rarely they can partially come to the surface. The mineshafts have many corridors partitioned off by pillars and several levels separated by stairs. The floor sometimes consists of planks, there are several torches.
In an abandoned mineshaft, you can find several chests with treasures in minecarts, there are also rails, often you come across veins of useful minerals. Many hostile mobs are generated in the mineshaft, only here is a spawn place of cave spiders that can poison the player with one bite.
The mineshaft can be found by the sound of the train, which is heard when approaching it.
Minecraft versions: 11 / 10.5.1 / 1.22 / 1.21 / 1.20 / 1.19.1 / 1.19
Publish date:
09/20/2021
Modify date:
02/06/2022