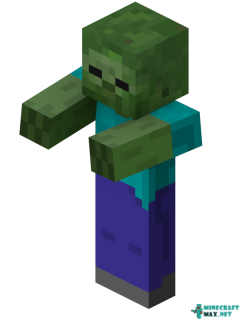 | | |
| --- | --- |
| Armor | |
| Effect | Transforms villagers into zombies |
| Health | |
| Damage | |
| Experience | |
Zombies are the most common hostile mob in Minecraft. Zombies smell the player and the villager a few blocks away and start chasing them. By the growl of zombies and the sounds of footsteps, it is easy to hear them in advance, even in caves.
In the morning, zombies burn out in the sun and rotten flesh, rarely carrots or potatoes, can fall out of them. When zombies find an item, they can pick it up and use it as a weapon or armor.
If a villager leaves the house at night and is bitten by a zombie, he will turn into a zombie villager and will attack other villagers and the player. Zombies cannot climb over fences and walls.
In a game with a high level, zombies can break wooden doors.
Drop:

Rotten Flesh
,

Iron Ingot
,

Potato
,

Carrot
Minecraft versions: 11 / 10.5.1 / 1.19.1 / 1.19 / 1.18.2 / 1.18.1 / 1.18
COMMAND: zombie
Publish date:
09/20/2021
Modify date:
02/28/2022