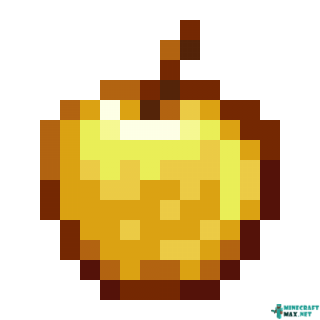 The golden apple is a special food, it will restore the player's health, even if he is full. Two gold hearts appear in the player's hearts, and they are restored every 30 seconds. The golden apple effect lasts one and a half minutes.
The second use of the golden apple is to transform a zombie villager into a regular villager.
The golden apple can be found in the chest in the mineshaft.
Golden Apple as food
To satisfy your hunger, you need to take golden apple in your hand and hold down the right mouse button. When the eating process is over, the player will have
Food allows you to restore the player's health. When the hunger scale is full, health hearts begin to recover.
Minecraft versions: 11 / 10.5.1 / 1.22 / 1.21 / 1.20 / 1.19.1 / 1.19
COMMAND: golden_apple
Publish date:
09/20/2021
Modify date:
01/25/2022