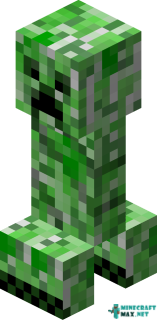 | | |
| --- | --- |
| Effect | Explosion |
| Health | |
| Damage | |
| Experience | |
Creeper is a hostile mob in Minecraft. The creeper is dangerous because it quietly sneaks up on the player, and then begins to hiss and explode, causing significant damage to the player (up to 7.5 hearts) and nearby buildings.
Creepers are not afraid of sunlight; they can hide in the tall grass, becoming almost invisible to the player. If the player noticed the creeper in time and killed him before the explosion, then gunpowder falls out. To prevent the creeper from exploding, you can run away from it by 12 blocks.
Creepers are afraid of cats and ocelots and try to move away from them for a short distance.
Because of the unusual appearance and high efficiency of killing, the creeper has become one of the symbols of Minecraft.
Drop:

Gunpowder
Publish date:
09/20/2021
Modify date:
01/17/2023