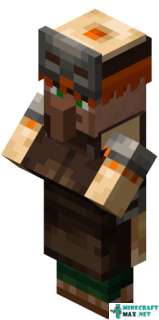 | | |
| --- | --- |
| Effect | Blast furnace |
| Health | |
Armorer is a villager who sells armor and a shield, including enchanted diamond armor, in exchange for emeralds. You can also exchange coal and iron ingots for emeralds.
The armorer is dressed in brown clothes, gloves are on his hands, and a goggle mask is on his head. Elements of clothing may differ for armored dwellers of different biomes.
It has the same levels of profession development as other villagers: Novice, Journeyman, Craftsman, Expert and Master. Each level changes the assortment of his goods; minor changes occur with his clothes, the color of the buckle also changes.
Armorer's workplace is a melting furnace.
Publish date:
09/20/2021
Modify date:
11/09/2022