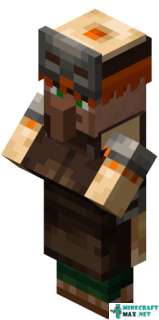 | | |
| --- | --- |
| Effect | Blast furnace |
| Health | |
Armorer is a villager who sells emeralds and different kinds of armor and buys emeralds, iron ingots, lava, and diamonds. He is wearing brown clothing and gloves, glasses.
A blast furnace is an armorer working place. Like all villagers, he also has levels - novice, apprentice, journeyman, expert, and master. Level impacts an amount of good and their price and buckle become a different color.
Minecraft versions: 11 / 10.5.1 / 1.19.1 / 1.19 / 1.18.2 / 1.18.1 / 1.18
Publish date:
09/20/2021
Modify date:
02/15/2022