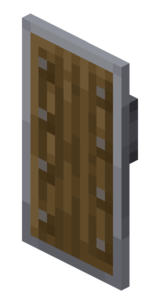 The player needs the shield to protect themselves from the attack of aggressive mobs, especially from arrows. The shield must be taken in the second hand - a separate window near the player's armor.
The ready-made shield is sold by an armorer.
The shield can be easily painted in any color right in the inventory, for this you will need a banner.
Minecraft versions: 11 / 10.5.1 / 1.22 / 1.21 / 1.20 / 1.19.1 / 1.19
COMMAND: shield
Publish date:
09/20/2021
Modify date:
03/13/2022