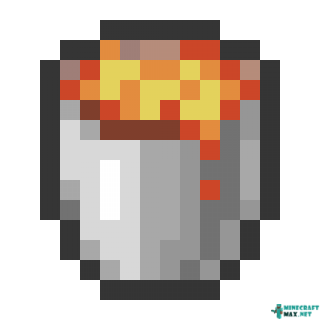 The lava bucket is an excellent furnace fuel. To collect lava in a bucket, you need to right-click on the lava while holding an empty bucket in your hand.
Lava can be transported in a bucket to create lava lakes or lighting.
Lava Bucket as fuel
Lava Bucket can also be used as stove fuel. Using just 1 lava bucket you can fry 100 blocks. This is considered a good fuel in the Minecraft game.
Minecraft versions: 11 / 10.5.1 / 1.22 / 1.21 / 1.20 / 1.19.1 / 1.19
COMMAND: lava_bucket
Publish date:
09/20/2021
Modify date:
03/13/2022