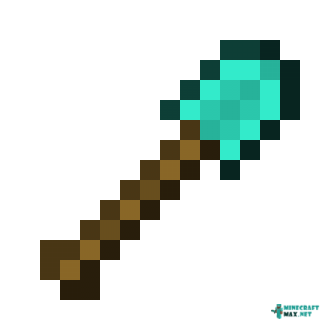 The shovel is essential for the quick extraction of sand, snow, earth, and clay. A diamond shovel is much stronger than all types of shovels in Minecraft. A shovel can be enchanted with unbreakability, and can also be repaired on an anvil.
Minecraft versions: 11 / 10.5.1 / 1.22 / 1.21 / 1.20 / 1.19.1 / 1.19
COMMAND: diamond_shovel
Publish date:
09/20/2021
Modify date:
10/16/2022
Diamond Shovel as weapon
Diamond Shovel can be used as a weapon, while its durability decreases by 2 units with each hit (if you break a block, it decreases by 1 unit). So diamond shovel as a weapon will deal about 781 hits before it breaks. diamond shovel can deal 4 damage to mobs and other players, which corresponds to
on the health bar. But you can
enchant
diamond shovel for durability or
repair
to increase durability.