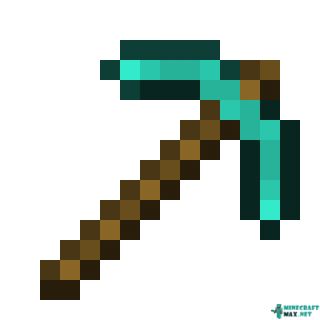 A diamond pickaxe is a tool for mining any ore, it can also break other blocks. It has maximum durability and mining speed compared to other types of pickaxe in Minecraft. Even obsidian can be obtained with a diamond pickaxe.
Such a valuable tool is useful to enchant with unbreaking and fortune. A diamond pickaxe can be repaired with an anvil.
Minecraft versions: 11 / 10.5.1 / 1.22 / 1.21 / 1.20 / 1.19.1 / 1.19
COMMAND: diamond_pickaxe
Publish date:
09/20/2021
Modify date:
03/13/2022
Diamond Pickaxe as weapon
Diamond Pickaxe can be used as a weapon, while its durability decreases by 2 units with each hit (if you break a block, it decreases by 1 unit). So diamond pickaxe as a weapon will deal about 781 hits before it breaks. diamond pickaxe can deal 5 damage to mobs and other players, which corresponds to
on the health bar. But you can
enchant
diamond pickaxe for durability or
repair
to increase durability.