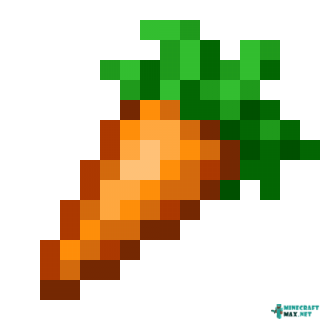 Carrots are grown on farmland. The easiest way to find carrots is in the villages in the villagers' farmland or buy from them. Rarely zombie drops carrots after his death. Bone meal speeds up the growth of carrots. If you jump onto farmland with planted carrots, the farmland will turn into an ordinary block of dirt, and the carrots (1 piece) will fall out. If you collect ripe carrots, then up to 4 carrots will fall out. For the growth of carrots is needed light (can be artificial) and water.
With the carrots, you can breed and manage pigs.
Carrot as food
To satisfy your hunger, you need to take carrot in your hand and hold down the right mouse button. When the eating process is over, the player will have
Food allows you to restore the player's health. When the hunger scale is full, health hearts begin to recover.
Minecraft versions: 11 / 10.5.1 / 1.22 / 1.21 / 1.20 / 1.19.1 / 1.19
COMMAND: carrot
Publish date:
09/20/2021
Modify date:
01/25/2022