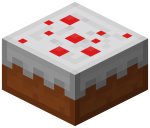 A cake in Minecraft is food that can be cooked and eaten in parts. Place the prepared cake on any block and bite off pieces of it by right-clicking. The cake consists of 7 pieces, each of which replenishes 1 unit of hunger. All players can eat a cake and they will not be able to pick up an already installed cake. The cake takes up the entire slot in the inventory. Since a cake requires a lot of ingredients, it is not the most profitable food in the game. More often it is put as a decor in the house.
Cake as food
To satisfy your hunger, you need to take cake in your hand and hold down the right mouse button. When the eating process is over, the player will have
x 7
Food allows you to restore the player's health. When the hunger scale is full, health hearts begin to recover.
Minecraft versions: 11 / 10.5.1 / 1.22 / 1.21 / 1.20 / 1.19.1 / 1.19
COMMAND: cake
Publish date:
09/20/2021
Modify date:
10/16/2022