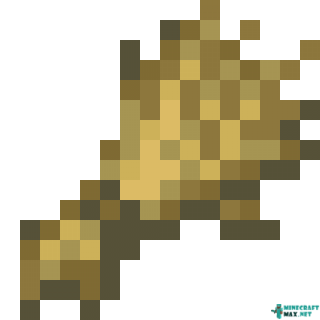 Wheat is the easiest plant to grow in Minecraft. Wheat seeds can be obtained by hitting a grass that grows in almost all biomes. You need to plant wheat seeds in farmland, next to which there must be water, no further than 4 blocks. Also, there must be any light, from torches or the sun. Bone meal can be used to speed up the harvest.
If a mob or a player jumps onto a planted farmland, wheat seeds will drop out, and the farmland will become a regular block of dirt.
Wheat can be made into bread or by adding other ingredients - cake and cookies. It is convenient to store wheat in a hay bale, to save space and decor. Hay bale is found in villages.
Chickens are fed and raised with wheat seeds, and horses, sheep, cows, donkeys, and mules are fed with wheat and hay bale.
Minecraft versions: 11 / 10.5.1 / 1.22 / 1.21 / 1.20 / 1.19.1 / 1.19
COMMAND: wheat
Publish date:
09/20/2021
Modify date:
10/16/2022