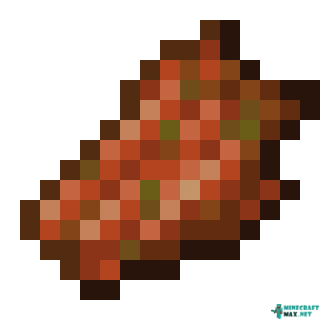 | | |
| --- | --- |
| Food | |
| Effect | Hunger for 30 seconds (80% chance) |
Rotten flesh drops from zombies after they die or after they are burned in the morning in the sun. It can serve as food for the player but has an 80% chance of causing poisoning. Nevertheless, rotten flesh can replenish satiety and have time to restore health.
If you wash down the rotten flesh with milk, the poisoning will stop immediately.
Rotten flesh can be used to feed and breed wolves.
Cleric can buy rotten flesh, so it's worth saving up a lot.
Rotten Flesh as food
To satisfy your hunger, you need to take rotten flesh in your hand and hold down the right mouse button. When the eating process is over, the player will have
Food allows you to restore the player's health. When the hunger scale is full, health hearts begin to recover.
Minecraft versions: 11 / 10.5.1 / 1.22 / 1.21 / 1.20 / 1.19.1 / 1.19
COMMAND: rotten_flesh
Publish date:
09/20/2021
Modify date:
01/24/2022