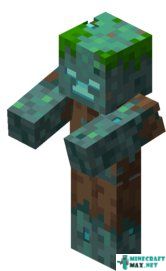 | | |
| --- | --- |
| Armor | |
| Effect | May appear with a trident |
| Health | |
| Damage | |
| Experience | |
A drowned is a hostile mob that spawns in the ocean, deep ocean, river. During the day, it attacks the player only when the player enters the water. At night, the drowned man can follow the player onto land. After killing a drowned man, it drops rotten flesh, sometimes a gold ingot, fishing rod, trident, or shell, if these items were in the hands of the drowned man. A drowned man armed with a trident is very dangerous, he throws a trident a long-distance and deals a lot of damage to them.
If an ordinary zombie gets into the water deep enough, it will turn into a drowned man.
Drop:

Copper Ingot
,

Rotten Flesh
Publish date:
09/20/2021
Modify date:
02/19/2022