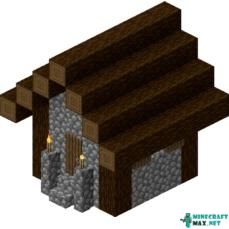 Village with villagers is generated in biomes savanna, desert, plains, taiga. In the village, as a rule, there are several small houses, one or two large ones, a smithing table with a furnace and a chest, a church with a tower, there is a brewing stand, a library with bookshelves. There is always a well with water and a bell in the village, maybe one or several lamp posts with torches. There can be a farm or vegetable garden, sometimes up to 4. Wheat, potatoes, carrots and beetroots grow on them, and the Farmer harvests the crops himself.
The houses have beds, fletching tables, a grindstone, a lectern, a Cartographer's table, etc. The villagers can be different by profession. If there are 10 villagers and 24 beds, then an Iron Golem will appear in the village, it protects the villagers from hostile mobs.
You can trade with the villagers, expand and develop the village. For the appearance of new villagers in the village, you need to add jobs and beds.
At night, all villagers hide in houses and go to bed, in the morning they go out.
The design and material of houses differ depending on the biome. For example, in the desert, houses are built of sandstone, and in the taiga - of stone and spruce logs, in the plain - of cobblestones and planks, rarely using hardened clay. Also in the new versions, there are roads in the villages, they can be made of cobblestones, planks, dirt blocks. The clothes of the villagers are also different.
Minecraft versions: 11 / 10.5.1 / 1.22 / 1.21 / 1.20 / 1.19.1 / 1.19
Publish date:
09/20/2021
Modify date:
02/09/2022