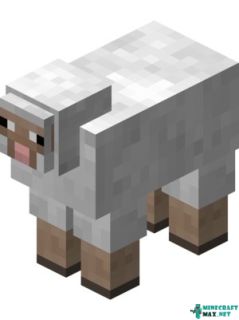 | | |
| --- | --- |
| Effect | Can be cut |
| Health | |
| Experience | |
Sheep is a friendly mob, found in different biomes, always in groups. After killing a sheep, from her falls out raw mutton and wool. To get more wool from one sheep, it is better to cut it with shears. In this case, up to 3 blocks of wool, the same color as the sheep can fall out. For the wool to grow back, the sheep needs grass.
Wool can be dyed with dyes, and the sheep itself can also be dyed.
You can lure and feed a sheep for breeding with wheat.
In nature, there are sheep of white, gray, light gray, black, brown, and pink colors.
How to breed:

Wheat
Drop:

Raw Mutton
,

White Wool
Minecraft versions: 11 / 10.5.1 / 1.19.1 / 1.19 / 1.18.2 / 1.18.1 / 1.18
COMMAND: sheep
Publish date:
09/20/2021
Modify date:
02/07/2022