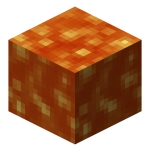 Lava is a fiery liquid, it is found on the superficies, in caves. In Hell, lava is everywhere, and there is a lava ocean. Lava flows more slowly than water and makes gurgling sounds. Can set fire to trees and grass, melt snow and ice nearby if they are on blocks adjacent to lava.
Lava sets fire to mobs and causes serious damage to the player, up to death.
You can transfer and use lava as fuel with a bucket.
If you drink a potion of fire resistance, then you can be in the lava and not receive damage.
Minecraft versions: 11 / 10.5.1 / 1.22 / 1.21 / 1.20 / 1.19.1 / 1.19
COMMAND: lava
Publish date:
09/20/2021
Modify date:
01/25/2022