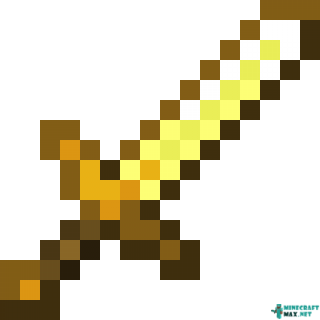 The golden sword is a weapon that can kill mobs and players in melee quite effectively. The sword can cut off cobwebs or leaves, but this will quickly lose durability. A golden sword wears out much faster than an iron sword.
A sword can be enchanted with sharpness, bone of arthropod, sweeping edge, and other enchantments, and can also be repaired on an anvil.
Sometimes zombies or zombified piglin appear with swords, then after their death, the sword can fall out, always worn out.
Minecraft versions: 11 / 10.5.1 / 1.22 / 1.21 / 1.20 / 1.19.1 / 1.19
COMMAND: golden_sword
Publish date:
09/20/2021
Modify date:
03/13/2022
Golden Sword as weapon
Golden Sword can be used as a weapon, while the durability decreases by 1 unit with each hit. So golden sword as a weapon will deal about 33 hits before it breaks. Golden Sword can deal 4 damage to mobs and other players, which corresponds to
on the health bar. But you can
enchant
golden sword for durability or
repair
to increase durability.