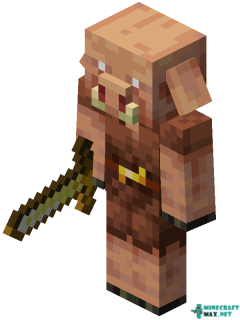 | | |
| --- | --- |
| Effect | Does not attack first if the player is wearing gold armor |
| Health | |
| Damage | |
| Experience | |
Piglin is an aggressive mob that appears only in the Nether (Hell). He looks like a pig, often in gold armor. He attacks with a sword or crossbow can open wooden doors. You can trade with a piglin by throwing a piece or ingot of gold next to it. Piglin will pick up gold and throw a valuable item to the player: pieces of gold, strings, potion of fire resistance, quartz, gravel, glowstone, ender pearl (7 units each), nether hoe, leather, obsidian, etc.
Piglin is neutral towards the player wearing gold armor.
If a gold object is thrown to a piglin with a crossbow, then he can throw his crossbow.
Piglin attacks hoglins, and he defends himself, while they both deal damage to each other until someone wins.
If the piglin gets into any other biome (except the Nether), then after a few seconds it will turn into a zombified piglin, but the armor on it will remain.
Drop:

Crossbow
,

Golden Sword
Publish date:
09/20/2021
Modify date:
02/15/2022