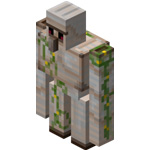 | | |
| --- | --- |
| Effect | Throws 3 blocks into the air |
| Health | |
| Damage | |
The iron golem in Minecraft is a neutral mob that the player can make on their own. But, unlike the snow golem, the iron golem is generated in villages and without the participation of the player. Sometimes he can be found near the outlaw outpost, locked in a cage.
The Iron golem protects the villagers from hostile mobs. A golem can attack a player in response to an attack, or by defending a villager who was attacked by the player, but does not attack the player who created it. The iron golem does a lot of damage to mobs, because it not only hits them with its hands, but also throws them up. The golem does not attack tamed wolves.
A golem cannot die from falling from a mountain or drowning, but it can get stuck in a pit with water, burn in lava. Over time, the golem gets damaged — this can be seen by the cracks on it. It can be repaired with iron ingots.
The golem is very useful during a raid, especially with the participation of the Ravager.
Drop:

Iron Ingot
,

Poppy
Publish date:
09/20/2021
Modify date:
12/19/2022