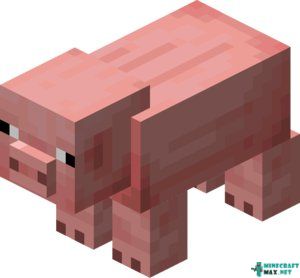 | | |
| --- | --- |
| Effect | Can be saddled |
| Health | |
| Experience | |
Pig is a friendly mob, they are found in many biomes, always in groups. Killing a pig drops raw pork, which is a great food for the player if it is fried.
The pigs are lured and bred with carrots and potatoes. For an unlimited supply of pork, you can make a pig farm.
You can ride a pig, for this, you have to put on a saddle. You can only control such a pig with a fishing rod with carrots. In a thunderstorm, lightning can strike a pig, then it will turn into a zombie pigman.
.
How to breed:

Carrot
Drop:

Raw Porkchop
Minecraft versions: 11 / 10.5.1 / 1.19.1 / 1.19 / 1.18.2 / 1.18.1 / 1.18
COMMAND: pig
Publish date:
09/20/2021
Modify date:
02/06/2022