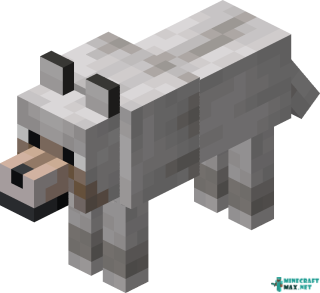 | | |
| --- | --- |
| Effect | Can be tamed |
| Health | |
| Damage | |
| Experience | |
The wolf is a neutral mob that can turn hostile. Wolves are usually found in forest biomes and the taiga, always in the flock.
Wolves can be tamed by feeding them a bone. After that, hearts and a red collar of the wolf will appear. A tamed wolf will follow the owner and attack those who have been hit at least once by the owner. A flock of tamed wolves is a great help in the battle against hostile mobs. A tamed wolf can be made to sit (right-click on it), then it will remain in place. The wolf can be fed and bred with meat and rotten flesh.
If a player attacks the wolf, he will become aggressive, with red eyes. In this case, the whole flock will attack the player. Also, wolves become aggressive while hunting sheep or rabbits. The wolves chase the foxes away.
How to breed:

Raw Mutton
,

Raw Beef
,

Raw Rabbit
,

Raw Porkchop
,

Rotten Flesh
Minecraft versions: 11 / 10.5.1 / 1.19.1 / 1.19 / 1.18.2 / 1.18.1 / 1.18
COMMAND: wolf
Publish date:
09/20/2021
Modify date:
01/27/2022