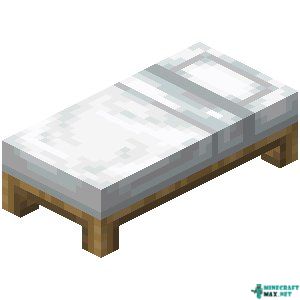 | | |
| --- | --- |
| Effect | Spawn point creation |
The player needs a bed to skip the dangerous night time. If there are several players in a multiplayer game, then they have to all go to bed. The bed will be the player's spawn point after he sleeps on it. Also, if the player has not slept for a long time, phantoms will appear at night and hunt him.
You can put a bed in Hell, but if you try to lie on it, it will explode.
There are always beds in villages and villagers sleep on them at night.
Minecraft versions: 11 / 10.5.1 / 1.22 / 1.21 / 1.20 / 1.19.1 / 1.19
COMMAND: white_bed
Publish date:
09/20/2021
Modify date:
10/16/2022