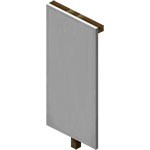 The banner is a colored piece of fabric that looks like a real banner. You can make banners with a wide variety of patterns, and you can wash these patterns with a boiler of water.
To design a banner, you need a loom, a flag of any color, and dyes.
Ready-made banners can be found in the village, in the city of Ender, in the woodland mansion.
White Banner as fuel
White Banner can also be used as stove fuel. However, using 1 white banner it is possible to completely fry an entire 1 block(s). Therefore, it is better to use other types of fuel in Minecraft.
Minecraft versions: 11 / 10.5.1 / 1.22 / 1.21 / 1.20 / 1.19.1 / 1.19
COMMAND: white_banner
Publish date:
09/20/2021
Modify date:
02/08/2022