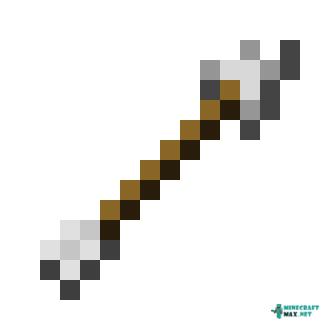 Arrows are bow and crossbow ammunition. Skeletons use bows and arrows to attack the player. Arrows can fly underwater but their range and speed of flight are greatly reduced and a trail in the form of bubbles remains behind the arrow.
Arrows have a maximum flight radius of about 120 blocks, which is achieved when you fire with a maximum bow tension at an angle of 45 degrees relative to the surface. The maximum flight height - about 70 blocks, is achieved when you fire vertically upwards. Arrows inflict damage from 1 to 5 hearts if they hit the target (depending on the tension of the bow).
The arrows stick into objects with which they come in contact and disappear after a minute. Arrows fired by a player or a dispenser can be picked up after hitting blocks but after hitting mobs cannot be obtained. You can not collect arrows that are fired by skeleton or player in creative mode or that are fired from a bow with the infinity enchantment.
Minecraft versions: 11 / 10.5.1 / 1.22 / 1.21 / 1.20 / 1.19.1 / 1.19
COMMAND: arrow
Publish date:
09/20/2021
Modify date:
10/16/2022