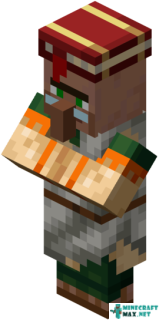 Librarian is one of the valuable professions of the villagers. With the help of a librarian, you can get access to enchanted books, and therefore to powerful charms for your belongings. In addition, you can use its trading offers to earn emeralds.
The librarian is dressed in white clothes; he has a red hat on his head. In addition to books, you can buy a bookcase, glass, clock, compass, lantern from him. You can sell him paper, books.
Levels of development of the librarian profession: beginner, apprentice, craftsman, expert and master. The range of goods and prices depend on the level, the color of the buckle on the belt also changes.
Workplace – Lectern.
Publish date:
09/20/2021
Modify date:
11/09/2022