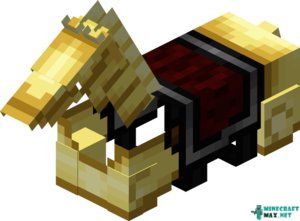 Horse armor can be leather, iron, gold, and diamond. It differs in the degree of protection, like the player's armor, but does not wear out. The armor can be put on a tamed horse in the window of its inventory, or by right-clicking on the horse with the armor in hand.
Gold armor gives a horse 7 points of armor, it protects better than iron.
You can find ready-made horse armor in treasuries, mineshafts.
Gold armor can be smelted into a gold nugget in a furnace.
Minecraft versions: 11 / 10.5.1 / 1.22 / 1.21 / 1.20 / 1.19.1 / 1.19
COMMAND: golden_horse_armor
Publish date:
09/20/2021
Modify date:
03/13/2022