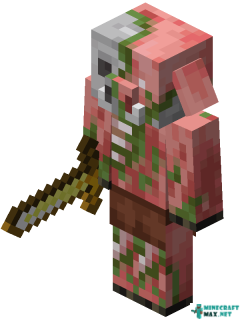 | | |
| --- | --- |
| Effect | Doesn't attack first |
| Health | |
| Damage | |
| Experience | |
Zombified piglin only appears in Hell. Very rarely, it can appear after lightning strikes a pig. Zombified piglins are neutral to the player until he attacks them. In Hell, zombified piglins always appear as several individuals and stick together. If you attack one zombie, then the rest of the group will also become hostile to the player. They do great damage, as almost all are armed with golden swords.
Zombified piglin do not burn in lava but will drown in water if they enter the normal world. After the death of a zombified piglin, a gold nugget, sometimes a gold sword, falls out.
Drop:

Rotten Flesh
,

Gold Ingot
,

Gold Nugget
Minecraft versions: 11 / 10.5.1 / 1.22 / 1.21 / 1.20 / 1.19.1 / 1.19
COMMAND: zombified_piglin
Publish date:
09/20/2021
Modify date:
10/16/2022