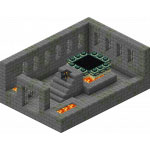 The stronghold is a complex building with passages, several levels, dungeons, a library and a portal to the end. Usually, the stronghold consists of stone bricks, partly mossy. The stronghold has many iron and wooden doors, and the library has bookshelves and treasure chests.
The stronghold can be found using the Eye of Ender. It is always completely buried underground, often quite deep.
There are many hostile mobs in the stronghold, but silverfish are especially dangerous - their spawner is located in the same room as the portal. In addition, there are many special blocks in the stronghold, when destroyed, silverfish jump out and attack the player.
Minecraft versions: 11 / 10.5.1 / 1.22 / 1.21 / 1.20 / 1.19.1 / 1.19
Publish date:
09/20/2021
Modify date:
01/30/2023