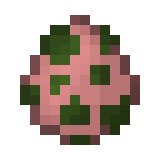 Hoglin is an aggressive boar mob that only lives in the Nether. There are two types: adult and baby. An adult hoglin attacks the player and deals heavy damage - up to 3 hearts in one hit, he also runs pretty fast. The baby hoglin attacks once and scares the player and runs away. After killing a hoglin, raw pork (up to 3 pieces from an adult) and skin fall out.
Hoglin is afraid of warped mushrooms and avoids them.
Hoglins are sometimes hunted by piglins.
If the hoglin enters the regular world (not the Nether), after a few seconds it will turn into a zombie hoglin and will attack all the mobs nearby.
Minecraft versions: 11 / 10.5.1 / 1.22 / 1.21 / 1.20 / 1.19.1 / 1.19
COMMAND: hoglin_spawn_egg
Publish date:
09/20/2021
Modify date:
10/16/2022