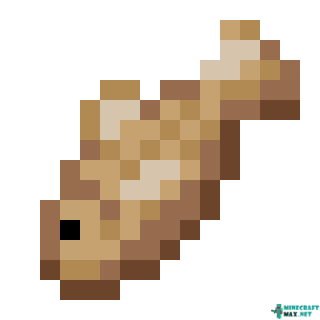 Raw cod can be caught with a fishing rod in a lake or any water reservoir. Also, raw cod will drop from fish floating freely in the ocean, but they are quite difficult to kill. Raw cod gives 1 unit of satiety, while fried cod gives 3 units.
Cats and ocelots, polar bears are bred and tamed with raw fish. You can feed a dolphin with fish, then he will show the way to the treasure.
Raw cod can be sold to a fisherman.
Raw Cod as food
To satisfy your hunger, you need to take raw cod in your hand and hold down the right mouse button. When the eating process is over, the player will have
Food allows you to restore the player's health. When the hunger scale is full, health hearts begin to recover.
Minecraft versions: 11 / 10.5.1 / 1.22 / 1.21 / 1.20 / 1.19.1 / 1.19
COMMAND: cod
Publish date:
09/20/2021
Modify date:
01/24/2022