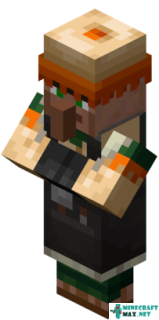 | | |
| --- | --- |
| Effect | Stonecutter |
| Health | |
Mason is the profession of a villager. He wears black clothes and has a hammer in his belt. Some items of clothing will change depending on the biome in which the village was generated.
The mason sells various building blocks, some of which are quite rare.
Like all professions, a mason has different levels of development - beginner, apprentice, journeyman, expert and master. The range of goods and their prices depend on the level. The color of the buckle will change color with a change in the level of development of the profession.
The workplace of a mason is a stonecutter.
Publish date:
09/20/2021
Modify date:
11/09/2022