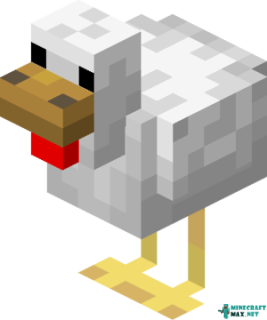 Chickens are friendly mobs, found in almost all biomes. From chickens, you can get raw chicken, feathers, eggs.
You can lure and feed chickens for breeding with seeds of wheat, pumpkin, melon, and beets.
Chicken feathers are useful for making arrows, fried chicken is a great food for the player.
If a chicken falls from a high mountain, it will not die, but glide on its wings. Chickens often swim in the water.
How to breed:

Melon Seeds
,

Wheat Seeds
,

Beetroot Seeds
,

Pumpkin Seeds
Drop:

Feather
,

Raw Chicken
Minecraft versions: 11 / 10.5.1 / 1.19.1 / 1.19 / 1.18.2 / 1.18.1 / 1.18
COMMAND: chicken
Publish date:
09/20/2021
Modify date:
01/27/2022