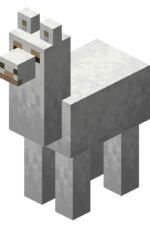 | | |
| --- | --- |
| Effect | Может переносить сундук |
| Health | |
| Damage | |
| Experience | |
Llamas are friendly mobs, always spawning in groups. Found in mountain biomes, the mountain edge, and savannah. Llamas come in several colors - brown, gray, cream, and white. Adult llamas make sounds and spit (dealing damage) if they are attacked. And even tamed llamas can spit. Llamas always spit at wolves, defending themselves like that.
The llama can be tamed by right-clicking on it. But they do not lend themselves to control like horses, from them you can make a caravan with the lead. Such caravans can be driven along while traveling. On a tamed llama, you can place a chest and a carpet.
Sometimes in the savannah and desert, there is a wandering trader with several llamas in harness, and on a lead, you can trade with him.
How to breed:

Hay Bale
Drop:

Leather
Publish date:
09/20/2021
Modify date:
02/09/2022