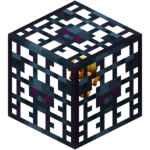 Blaze spawner is a special block in the form of a cell, inside which new flashes are generated. Flames and a miniature flash model are visible inside the spawner. Up to 4 flashes appear from the spawner at a time.
Before version 1.19.3, the spawner block was not in the inventory in creative mode, it could only be obtained using the /give command.
A spawner cannot be obtained in survival mode, even by destroying it with a pickaxe with a "Silk Touch" charm. After destruction with a pickaxe, only experience points will fall out. When destroyed by another tool, nothing will fall out.
Minecraft versions: 11 / 10.5.1 / 1.22 / 1.21 / 1.20 / 1.19.1 / 1.19
Publish date:
09/20/2021
Modify date:
12/12/2022