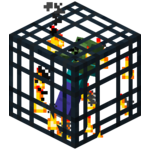 The zombie spawner is a grid block from which zombies are generated. Inside the spawner, there is a flame and a spinning zombie model. Up to 4 zombies can spawn from the spawner at a time.
The spawner can only be placed in a creative mode. In normal game mode, the spawner is destroyed without a trace.
You can use torches or any other light source to slow down the spawning rate of mobs.
Minecraft versions: 11 / 10.5.1 / 1.22 / 1.21 / 1.20 / 1.19.1 / 1.19
Publish date:
09/20/2021
Modify date:
02/09/2022