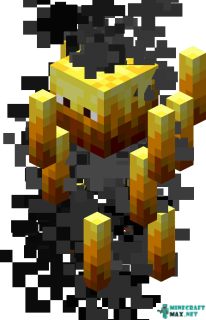 | | |
| --- | --- |
| Effect | Throws fire |
| Health | |
| Damage | |
| Experience | |
A blaze is a hostile mob, found only in Hell in the Nether fortress. It attacks the player at a great distance with fireballs, so it is very dangerous, especially for a player without armor. After the blaze's death, a blaze rod falls out, this is a very valuable item in the game.
To take less damage in the battle with blazes, the player can use a potion of fire resistance.
You can throw snowballs into a blaze, it damages him.
Drop:

Blaze Rod
Minecraft versions: 11 / 10.5.1 / 1.19.1 / 1.19 / 1.18.2 / 1.18.1 / 1.18
COMMAND: blaze
Publish date:
09/20/2021
Modify date:
01/27/2022