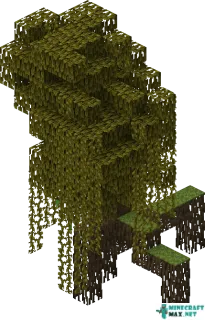 Mangrove tree is a new unique type of vegetation, which is added in update 1.19 Minecraft Wild. These trees can be found in large numbers in the Mangrove Forest or Mangrove Swamp biome.
Mangrove trees have a lush crown, their distinctive feature is aerial mangrove roots, as well as mangrove shoots or propagules growing on branches, fr om which a new tree can be grown. There are also many lianas growing on mangrove trees.
Mangrove trees generate blocks of dirty mangrove roots around themselves in places wh ere aerial roots connect with blocks of mud.
Minecraft versions: 11 / 10.5.1 / 1.22 / 1.21 / 1.20 / 1.19.1 / 1.19
Publish date:
07/23/2022
Modify date:
10/22/2022