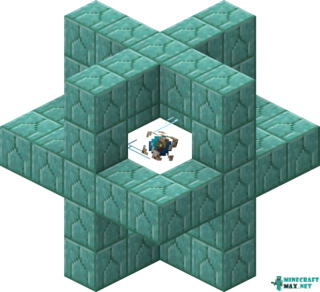 Conduit gives the player the effect of sea power at least 32 blocks away if they are near a properly placed conduit. To create a conduit, you need to accumulate nautilus shells and find the heart of the sea, and for setting, you need blocks of any prismarine or sea lanterns. The conduit can be improved and then it will act at a distance of 96 blocks and will even damage hostile mobs.
Minecraft versions: 11 / 10.5.1 / 1.22 / 1.21 / 1.20 / 1.19.1 / 1.19
Publish date:
09/20/2021
Modify date:
04/11/2022
What to craft with conduit
---
There is only one recipe that uses conduit in crafting in Minecraft. Below you can see a description of this recipe: a picture with ingredients and step-by-step instructions on how to use conduit in Minecraft.
Video about conduit
---
There is only one video on the site which has conduit in Minecraft. You can watch this video below to get a better idea of what conduit looks like in Minecraft.