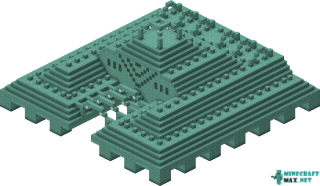 The ocean monument is a large underwater building that looks like a pyramid. A monument is built from different types of prismarine, inside it is illuminated by sea lanterns. In the very center of the ocean monument, there are 8 blocks of gold immured in a prismarine.
Several guardians swim in and around the ocean monument - hostile fish that deal damage to the player at a distance of 15 blocks. Also, 1-3 elder guardians are generated there - this is a more dangerous type of hostile fish, they can send mining fatigue on the player.
The ocean monument can only be found in the ocean and deep ocean, at night you can see the light from it in the distance.
Minecraft versions: 11 / 10.5.1 / 1.22 / 1.21 / 1.20 / 1.19.1 / 1.19
Publish date:
09/20/2021
Modify date:
01/30/2023