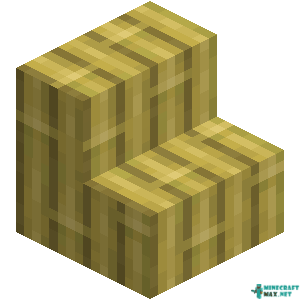 Bamboo stairs are a block that was added to Minecraft in the experimental build 22w42. Most often they are used to create ladders, but they can also be used to create other structures in the game.
Bamboo stairs are created on a workbench. See below for the recipe for creating bamboo stairs.
Bamboo stairs have a variation of bamboo mosaic stairs.
Minecraft versions: 11 / 10.5.1 / 1.22 / 1.21 / 1.20 / 1.19.1 / 1.19
COMMAND: bamboo_stairs
Publish date:
10/21/2022
Modify date:
10/28/2022