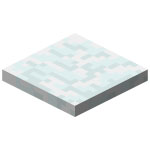 Snow layer can be found in cold biomes after a snowfall, in the mountains biome. There is a layer of snow on the blocks that the Snow golem walked over, but it will quickly melt in warm biomes.
When you destroy the snow layer, it disappears with a characteristic sound, but if it is mined with a shovel, snowballs will fall out.
Snow does not interfere with the growth of plants in the farmlands.
Minecraft versions: 11 / 10.5.1 / 1.22 / 1.21 / 1.20 / 1.19.1 / 1.19
COMMAND: snow
Publish date:
09/20/2021
Modify date:
01/25/2022