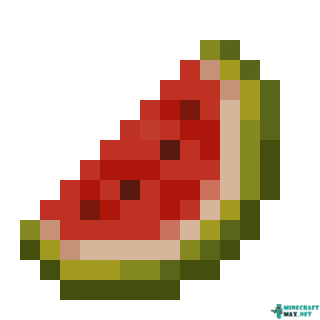 A melon slice can be obtained by destroying a whole melon. Melons grow in the jungle and can also be grown from seeds in other biomes.
3-7 slices fall out of one melon. Melon slices can be eaten, but they only replenish 1 point of satiety.
If the player has gold, then he can make a glittering melon slice.
Melon Slice as food
To satisfy your hunger, you need to take melon slice in your hand and hold down the right mouse button. When the eating process is over, the player will have
Food allows you to restore the player's health. When the hunger scale is full, health hearts begin to recover.
Minecraft versions: 11 / 10.5.1 / 1.22 / 1.21 / 1.20 / 1.19.1 / 1.19
COMMAND: melon_slice
Publish date:
09/20/2021
Modify date:
10/16/2022