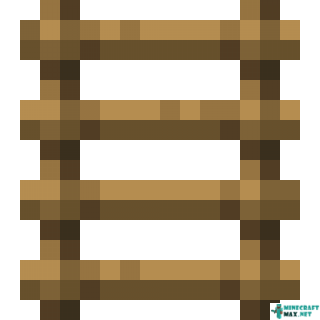 The ladder is easy to make from sticks, it is needed to quickly move straight up or down. You can put the ladder on the side surface of any solid block. To stay on the stairs and not fall, you need to press Shift.
Ready-made ladders can be found in villages, but the villagers themselves cannot use them.
Ladder as fuel
Ladder can also be used as stove fuel. However, using 1 ladder it is possible to completely fry an entire 1 block(s). Therefore, it is better to use other types of fuel in Minecraft.
Minecraft versions: 11 / 10.5.1 / 1.19.1 / 1.19 / 1.18.2 / 1.18.1 / 1.18
COMMAND: ladder
Publish date:
09/20/2021
Modify date:
01/25/2022